Written by:
Admin
,
Friday, 2014/06/06 at 9:03 PM
BBC documentary featuring ex-England footballer in Brazil included encounters with a frog and a snake, plus hair concerns. David Beckham told his wife Victoria that he would wear a hat in the rainforest after she voiced concerns about his hair.

It was billed as David Beckham's epic journey into the heart of the Amazon rainforest, but Michael Palin has branded the former England football captain a "wimp" after he was rattled on his debut BBC1 travelogue by a frog, a snake and concerns about his hair.

Beckham and three friends travelled to Rio de Janeiro, where they played beach volleyball with the locals, before journeying to the remote Yanomami tribe for the 90-minute film masterminded my Beckham's marketing guru, Simon Fuller.

The footballer, who hung up his boots last year, spent the night in the rainforest during the 12-day trip – "literally the middle of nowhere," he said – accompanied only by his friends and two expert guides.

Beckham achieves one of his ambitions, which was to find somewhere in the world where he was not recognised, and has to explain football to one of the locals.

Beckham said: "It is the first time I have ever had to explain what soccer is to anybody apart from Victoria."

Beckham, who travels around much of the country on a motorbike, described some of the experiences as "terrifying" and complained about the perils of having to sleep in a hammock.

He is filmed being left shaken by a brightly coloured frog which appears on top of the tent and by a snake which he worries is on his back and is seen slithering off into the jungle.

Palin, the Monty Python star and veteran of numerous BBC travelogues including one to Brazil, who interviewed Beckham at the programme launch on Monday, told him: "You are a wimp really. David Attenborough would have interviewed it [the frog]."

Beckham said: "I wish the snake had been bigger. It was bigger than it looks on TV.

"I am not a big frog fan. It was bright orange and I was told it was pretty dangerous. I was a little bit nervous about that."

Before setting off on the journey Beckham is filmed being given advice by his wife Victoria.

She asks him: "What are you going to do with your hair, with all that humidity?"

Beckham replies, much to the approval of his wife: "I am going to wear a hat."

He also related a tricky experience with one tribesman who was naked and covered entirely in black paint.

Despite his misgivings about the sleeping arrangements, Beckham said he wanted to do another travelogue "without a doubt".

Whether it is on the BBC remains to be seen. The documentary, David Beckham: Into The Unknown was funded by its commercial arm, BBC Worldwide, BBC1 and Fuller's XIX agency. It has been sold to around 15 countries so far.

Fuller is understood to have first approached the BBC last year with the idea for the documentary, in the run-up to the football World Cup this month.

Palin said the programme showed aspects of Beckham he had not seen before. While he said parts of it were "more David Beckham than David Attenborough", he said it was well shot and praised the footballer as a "good observer".

It will air on BBC1 next Monday and in Brazil on the same day.
Mel B. has a new smartphone app that lets fans dance with Mel B. anywhere in the world. Queen Latifah thought it would be fun to do a live version of Mel B.'s app and help her raise a little money for her favorite charity.
Mel B. talks about her fellow "America's Got Talent" judge Howie Mandel pulled a prank about her birthday. Tune in May 27, 2014 to watch!
If you missed the show, you can catch all the best bits below… including the most embarrassing thing that's ever happened to Ant on live TV and what the boys guilty pleasures are!

We asked you for your questions for Emma and the boys and you definitely didn't disappoint!
Cheryl Cole should be scared: very, very scared. Scary Spice Mel B flew over to London from the States on Tuesday for a one–hour meeting with X Factor head honcho, Simon Cowell.

And Mel has virtually guaranteed herself the coveted judging job after successfully pitching for the gig.

Told she will be there to Spice-up (sorry) the panel, Simon sees her relationship with Chezza as key to the whole thing.

Rather than going down the cliched cat-fight road, Si, 54, is going for Girl Power – pitching the pair as friends, not enemies.

But that is not to say Mel won't stand her ground when necessary…

We're told: "Mel flew in specially to see Simon and they met in his office at Sony HQ. Melanie has been a front-runner for a long time now, mainly because she did such a good job as a guest judge a couple of years ago. She's got the necessary experience, has a proven track record in the music industry and knows her stuff.

"They discussed what kind of 'character' Mel should play – she was adamant she didn't want to be bad cop to Cheryl's good. She told Simon she would be Scary Spice, and have attitude, but not be unnecessarily rude or provocative. Simon sees Mel and Cheryl working well together in a girl power kinda way. He thinks their chemistry will be good and really shake things up.Although Alesha is still in the frame, Mel and Simon have agreed personal terms and everyone is confident the deal will be announced shortly."

The former Spice Girl, who turns 39 today, flew back home to LA yesterday to start filming the ninth series of America's Got Talent.

She is due to finish making The Voice Kids in Australia next month.

So she will be free in time to begin filming on the new series of the hit Saturday night ITV show.

The singer has agreed to move back to the UK for the duration of filming so she's available for all the press and promotional activities.
Hey guys! Lets talk about America's Got Talent. I am not allowed to post download links anymore (in general). I cant share the episodes here, unless they are "youtubed". But you can find them here. x
That ear-splitting crackle and pop wasn't the blare of massive fireworks detonating. It was the sound of Spice Girls member, Melanie Chisholm, busting the bubbles of Spice fans everywhere.

With the Spice Girls' 20th anniversary approaching in July, Melanie, better known to the world as Sporty Spice or simply Mel C., is voicing that she has no interest in recording any more material with her former band mates. Ever.

"I've been a solo artist longer than I was a Spice Girl," Mel says. "I feel like this is my life now."

And a grand life it is.

Mel's doing just fine without the others. The girl's got 6 solo full length releases to her name and has sold over 12 million albums around the world.

Mel's 1999 debut, Northern Star, featuring the hit single "I Turn to You," is actually the most successful solo effort to come from any of the Spice Girls.

Speaking of Mel's Spice sisters, Victoria Beckham, labelled Posh Spice in her other life, shares Mel's sentiments about regrouping and isn't feeling hot about turning the lights back on the Spice Girls either.

That said, Mel wants her fans to know her reasons are personal and her disinterest is not based on resentment.

"I'm very proud to be part of the Spice Girls," Mel confirms, just in case there were any doubts.

Mel has loads to be proud of, starting with being part of the most successful female group of all time in an era dominated by boy bands.

"Many industries, music being one, [are] heavily dominated by men. We went on to prove a lot of people wrong and be more successful than a lot of the boy bands, if not all of them," Mel grins. "I hope that inspired other women to not take 'no' for an answer."

Despite how gratifying it once was, the future of the Spice Girls looks dark, but there is still a small glimmer of hope for diehard fans of the girl group. All of this isn't to say that public appearances or a string of reunion show dates are totally out of the question.

"We never ever thought it would happen the first time around," Mel admits, referring to 2008's The Return of the Spice Girls world tour. "So nobody knows what the future holds."
Former spice girl, radio presenter, style icon and mum Emma Bunton joins the Loose Women today (May14). She'll be chatting to Ruth Langsford, Coleen Nolan, Janet Street-Porter and guest panellist Michelle Heaton.
Captures:
Gallery Link: 

EMMA BUNTON > SCREENCAPTURES > MISCELLANEOUS > Emma Bunton: Celebrate Saturday with Emma and Ant & Dec – May 2014
David Beckham is on the cover of Marie Claire China. Thanks a lot to my friend JoyCry, who sent me this image on Twitter.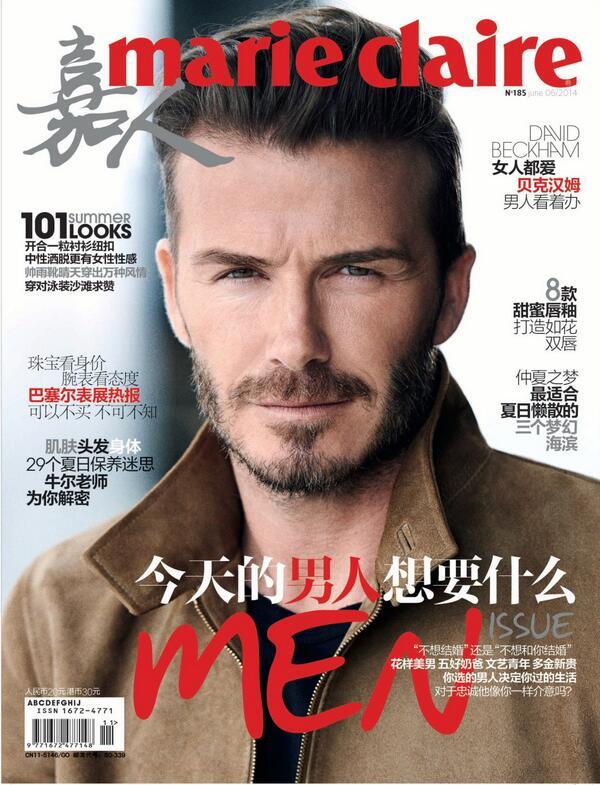 Gallery Link:

THE BECKHAMS > SCANS > FASHION MAGAZINES > David Beckham: Marie Claire China – June 2014
The baby doll dresses are in a trunk in the attic and the hair is no longer clasped in bunches.

Yet, 38 year-old Emma Bunton still bubbles with the enthusiasm of a teenager.

These days, the energy isn't focused on her old pop group and careering around the world but in her new career as a radio presenter, now fronting Heart FM's Saturday show, (formerly Real Radio).

Yet, isn't this a little less satisfying?

The lady who once performed the likes of Wanna Be to tens of of thousands of people at a time is now talking into a microphone for a living.

Radio is, of course, the theatre of the imagination, but on radio you don't get to see the audience. And you certainly don't hear the applause.

"When I took on the job at first I did wonder how I'd feel about it," she reflects of her three years on the Heart breakfast show.

"But after doing it for a while you come to realise you get incredible feedback. Listeners text in all the time and I meet people in the street and contact our website so they mention things and often suggest topics."

Emma says appearing on radio this is a very different form of performing.

"It is, but it's also a world I love. I come into a studio and I play great music. We play all sorts of records with Heart, and I love the mix. And I love the challenge of relating to the audience."

Pop stars often find it hard to reinvent themselves after enjoying global popularity. Gary Barlow's recent TV documentary highlighted how hard to can be to be idolised one minute – and ignored the next.

"I knew when the Spice Girls ended I'd have to do new things. And it was scary. But my mum has always been a great role model.

"She took up karate at the age of 40 and now she's a black belt and a teacher. She's taught me anything is possible.

"I want to do so many different things in life, to take on new challenges.

While she has had Jamie Theakston as her radio wing man for three years, she's now flying solo.

"When the red light goes on in the studio I do get that adrenalin rush and sometimes wonder what is going to come out of my mouth and it's pretty scary.But that's what I love about it. And if you don't get nervous, what's the point?"

She adds, grinning: "Why do a job if you don't feel your being challenged?

"And here's the thing. I started with the Spice Girls when I was 19, and that was really young. But hopefully I've got a whole new career, which is amazing."

Does she like the music format? Has she played any Spice Girls records?

"Do you know what, I've played Spice Girls a couple of times. But I don't think I've ever played any of my own."

She adds, laughing: "We don't like to be too self- indulgent, but now that you've mentioned it I'll go and make that suggestion."

Emma reveals she was always a budding radio presenter.

"As a kid I used to make up my own radio shows, recording in my bedroom and then go out in the street and ask people what they thought of Bananarama. I wasn't a child performer in the sense I was always singing and performing to my family, but I did listen to Chris Evans and then go off and think I could become a radio DJ. So I'd make tapes with me playing music and then I'd be like: 'Next up we have Salt 'n' Pepa with Push It!' It's amazing that now I'm doing it for real."

Emma has had a successful solo career, releasing albums and presenting on television, working as a judge on the ITV skating show Dancing on Ice.

In 2012, she reprised her role as one of Edina Monsoon's disgruntled clients in a revival of the BBC's Absolutely Fabulous.

But will the Spice Girls be revived? It's been rumoured they will tour with the Backstreet Boys.

"There is always talk of things happening, but that's all it is. We love spending time together and the Olympics was amazing. How can you follow that? You never know, although for the moment there's nothing in the pipeline."

Emma's life is pretty full.

"I've been working with Unicef for the past couple of years and there's another project coming up.
But I am a mummy as well. My two boys (Tate and Beau – Emma's partner is Damage pop star Jade Jones) are six and three. So I want to be with them as much as I possibly can. That's my priority in life."

Emma Bunton presents the Celebrate Saturday show from 5pm to 7pm on Heart FM.
LONDON, United Kingdom — Victoria Beckham's private office in the London headquarters of her fledgling fashion brand, just south of the river Thames in Battersea, is a calm oasis of earthy hues and understated designer furniture. But just outside her door, spread across two floors and two separate, fully-staffed ateliers — complete with in-house patternmakers, sewers and cutters — is a buzzing office with more than 100 people working across design, product development, sales, marketing, operations and finance.

It's not at all fancy. There are piles of boxes everywhere and mismatched desks are crammed together in every which way. Phones are ringing off the hook and couriers are trailing in and out, with delivery after delivery. A fabric meeting is taking place in the reception area as all the other meeting spaces seem to be fully occupied.

"I've only actually just had an office that has windows. I was downstairs in the cupboard!" Ms Beckham jokes as she shows me around the office. "There are no airs and graces here. Nobody treats me as if I'm a famous person. It is what it is." The crowded workspace has all the signs of a rapidly growing young fashion company.

The Victoria Beckham business turned over a respectable £30 million in sales (about $50 million) in 2013, an impressive 91 percent increase on the year prior, according to figures provided by the company.

But critically, Beckham has also managed to create a brand profile that is significantly larger than the current scale of her business. recently, she has been everywhere. In December, Beckham guest-edited edgy Vogue Paris and appeared on two smouldering cover spreads with her football star husband David. (In total, Beckham has appeared on the cover of nine different international editions of Vogue, with the notable exception of the American edition.) Then there were two simultaneous Vanity Fair covers in Italy and Spain in January, the March cover of Allure in the United States, and a ubiquitous collaboration with Skype, documenting her personal fashion journey. How many other designers can regularly land cover stories on fashion magazines around the world?

"It's a double-edged sword really," says Beckham, when asked what role her fame has played in the success of her business. "The most valuable part of being famous is that you have a voice and people will listen. I mean I can get a lot of attention. I don't have to rely on advertising campaigns," she admits. "But I don't like to use that card very often. I like to keep my head down, work hard, focus on what I'm doing business-wise. I like to try and control how much I'm seen. I don't want to go out and be photographed every day, you know."

"So, I think that as much as one might say, 'it has helped,' I'm not so sure," she says, "I've had to overcome lots of preconceptions, and that's okay."

Indeed, it would be too simplistic to credit Victoria Beckham's phenomenal rise in fashion to the power of her celebrity alone. For years, Beckham actively courted the fashion industry, making red carpet appearances in high-end designer clothing and gaining global media attention on both sides of the Atlantic, simply by going about her day-to-day life.

But she was shunned. Insiders remember a time when brands would call her representatives to ask that she please not wear their clothes, even if she had bought them herself. They did not want to be associated with the perky breasts, pouty poses and over-dyed blonde bob that had come to define her style in the post-Spice Girls days.
hey all, sorry for the lack of updates, but we've been very busy lately with our own life. We will be back to normal very soon xx
Listen to Emma Bunton talking about Victoria's birthday dinner to Heart Breakfast. Thanks a lot to Javi.
The pictures will be add soon.
Emma Stone, alongside Spiderman 2 co-star Andrew Garfield, met one of her idols on the Capital Breakfast show! "Sporty Spice" from the legendary pop group The Spice Girls FaceTimed her to say hello! Emma's reaction is priceless!
Emma Bunton is on the cover of Essential Magazine. You can check scans on Denden forums, thanks to Claudia. Click HERE.
They burst onto the scene in 1996 hollering 'girl power' at the top of their lungs and stamping their own unique brand of pop onto the world with their platform trainers.

And it sounds like Britain's most famous girl band the Spice Girls might be bringing the old magic back, hinting at yet another reunion tour in 2016 to celebrate the 20th anniversary of their debut single, Wannabe.

Mel B aka Scary Spice set tongues wagging while guest co-hosting US morning show LIVE with Kelly and Michael when she didn't dispel rumours that the gang might be back together.

When asked if she would be touring with the Backstreet Boys, the 38-year-old presenter and Voice Kids coach side stepped the question and said: 'I think if the Spice Girls went on tour we'd want to have the stage to ourselves.'
David Beckham has become a rainforest explorer after undertaking a two-week jungle expedition for a BBC1 documentary about Brazil.

The former England captain has been cooking, camping and fishing as he and three friends journeyed through the Amazon forest earlier this month for the 90-minute film.

Beckham, who will appear in a BBC1 Sport Relief special edition of Only Fools and Horses on Friday, headed to the country secretly to make the film in order to give a taste of the natural beauty of the country ahead of the World Cup this summer.

He was accompanied by fellow travellers Dave Gardner and Derek White, together with film-maker Anthony Mandler, as he added a further dimension to his career.

The unnamed film is to be screened on BBC1 in June, to tie in with the tournament.

Charlotte Moore, the channel's controller, said: "In this special documentary for BBC1, David Beckham embarks on a top-secret expedition to the Amazon that will see him encounter the other side of Brazil and journey through the tropical rainforest, a TV first for the global icon."

BBC Worldwide, the corporation's commercial arm, is handling international sales of the programme, which it will be launching at the at the MipTV 2014 international TV sales festival next month.

Helen Jackson, managing director for content at BBC Worldwide said: "This is an unforgettable documentary set in the heart of the dense Amazon rainforest following David Beckham.

"Through his eyes, audiences will experience life in the jungle, something so distant from David's life on and off the pitch and in the glare of the world's media."
Melanie C, aka Sporty Spice, is one busy lady at the moment. As well as donning an Adidas trackie in Little Mix's new Sport Relief video, she has also joined forces with P&G and Asda to help provide clean water to children around the world.

To celebrate her dedication with P&G, we sat down with Melanie to discuss all things Spice Girls, Little Mix, The Big Reunion and what she thinks about women in the music business.

Mel C on… The Big Reunion
A lot of the bands that have been on this series, and last series, I know because they were around at a similar time to the Spice Girls so I know quite a few people. This year is quite special to us because Damage are on it, and of course Jade is Emma's other half, so yeah, I've been following it. It's so brilliant for the bands that are on it to get another opportunity to perform for their fans. Bands like Eternal and Damage are brilliant, and they had great songs, I just hope it turns into more opportunities to do more work.

Mel C on… the celebrities who can't handle fame
I think in life everyone gets affected by things differently, if you're luckily enough to be successful in entertainment it can be quite strange, your life can change quite dramatically, and often I think a lot of performers are quite vulnerable and people look for a way to unwind to deal with the pressures, and that's how it happens for a lot of singers, and actors – we've unfortunately lost some great actors through drugs and stuff, so that's how they become victims of addiction. But really there are people who have problems like that in completely different industries. But yeah, in the entertainment industry you have lots of dramatic highs and lows.

Mel C on… getting 'Posh' in Buzzfeed's Which Spice Girl Are You quiz?
I'm actually sportier now than I've ever been. I'm probably fitter and stronger now than I ever was when I was in the band. But I have learnt a bit about fashion, so I was quite happy to get Posh. I was quite pleased with myself.

Mel C on… Victoria Beckham saying no to a Spice Girls reunion
I'm sure her mind wouldn't be changed. Of course us girls know that performing isn't Victoria's passion anymore, and we completely understand, and are so incredibly proud of her because what she's achieved is unique. To come from a girl band, and so respected in the world of fashion is literally, unheard of.

Mel C on… the Spice Girls (sans Posh)
What can we say? If there's an opportunity that comes up and the four of us want to get up and perform as the Spice Girls, Victoria is cool with that. We'd love to have her there, of course we would, but we totally understand. She could design our stage wardrobes – that will be her part, she'll make us look fabulous.

Mel C on… Making dosh
I think the biggest change is how the music industry has been affected by the digital age. It's a lot more difficult to shift a unit. You can deem to be successful but the finances are not the same. You think that pop bands from the 90s and noughties and today make lots of money but you'll probably find that they don't actually make that much money. A lot of people do make money, but then you quite quickly spend it. It's hard for people who have been quite high profile, and their career hasn't gone the way they want, and they can't have a career in music, it's difficult to go back to what you deem as a regular job.

Mel C on… Women vs. Men in the music industry
There are so many strong women in music, and there has been in the past five to ten years. Beyonce, Katy Perry, Pink, Lady Gaga, Rihanna, there seems to be more and more women who are doing better than the guys. I think behind the scenes it's a lot more male dominated; writers, producers, and in the boardroom it's more dominated by men. There are still women there, but it's a lot more men. It's always going to be different for girls and guys. It's more acceptable now for girls to be stronger and more independent, look at Rihanna, she's pretty rock 'n' roll.

Mel C on… Little Mix
I adore Little Mix, they are my little girl's favourite band. They are very youthful, there are a lot of girl bands out there that are quite sexual, but they dress quite quirky. Most girls wear make-up and have big hair these days but I do think Little Mix are quite fun and innocent. I think it's important to have a girl band for younger girls like that.

Mel C on… whether she'd ever be a judge on X Factor
Yeah, I think you'd have to be a fool to not do that show. I have my issues with it, but gosh, if Simon were to give me a call, I'd definitely listen to what he had to say. But, I'm probably too nice to be a judge – Cheryl has the nice thing down, he probably needs someone a bit mean like Mel B.

Mel C on… making a difference
It is amazing to see how the efforts of Asda shoppers in the UK are helping make this dream a reality for parents in communities across the globe.

Melanie C is making an appeal to shoppers across the UK to support the P&G and Asda Clean Water Campaign, which hopes to provide 75 million days of clean drinking water to some of the world's poorest communities by the end of 2014.
MEL C says she will have a booze-off with former bandmate Mel B at Victoria Beckham's upcoming 40th birthday.

Sporty, 40, told us: "We'll have a competition to find out who can party hardest. Emma Bunton is pretty good, although sometimes she peaks too soon."

Apparently we can expect the Spice Girls to reform (again) in 2016.

Mel said: "I'd like to think we'll get our act together and do something spectacular to acknowledge 20 years of Wannabe."

..and Geri Halliwell, 41, as Miss Chisholm has dissed Ginger's latest solo Aussie outing, Half Of Me.

But it might be awkward between her and Geri Halliwell, 41, as Miss Chisholm has dissed Ginger's latest solo Aussie outing, Half Of Me.

She mused: "I don't think it was her best work… I think she is aware of that. It's a shame how it was received… It didn't do very well over there."

Mel is supporting the P&G and Asda Clean Water Campaign. Visit asda.com/cleanwater.
We are currently re-organizing the Gallery. So, don't panic because the albums are a mess at the moment. Bear with us xx